"Rides and Riders" app
Add Weeks of productivity to your Transportation department.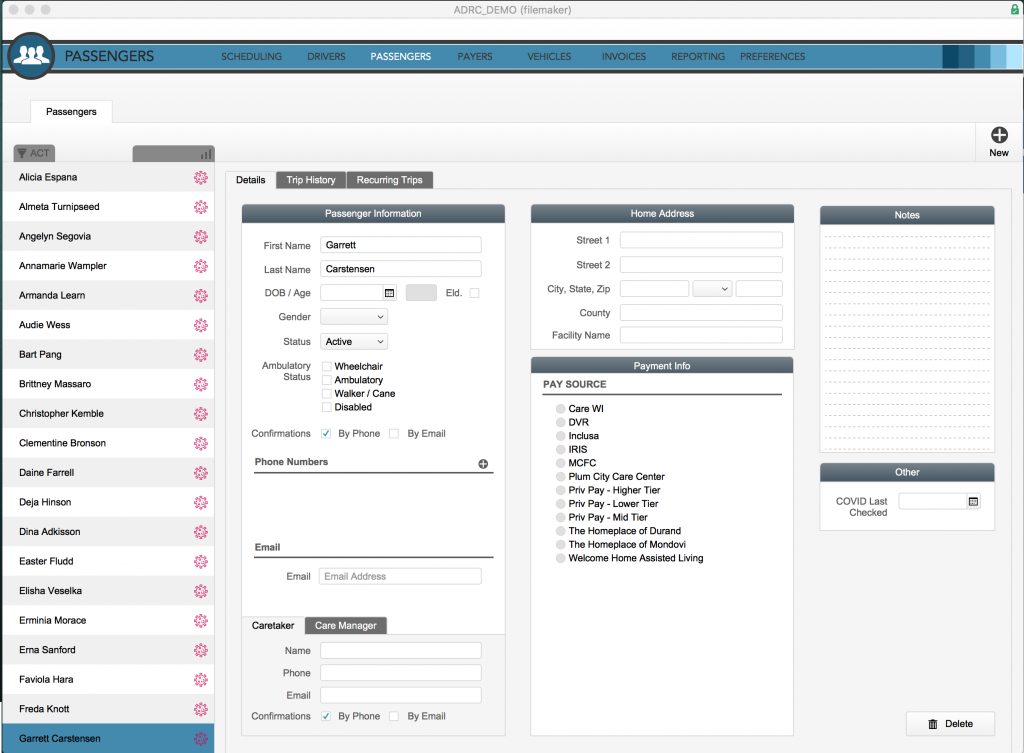 We have seen organizations like yours. You have a person answering phone calls and reading emails. You have others working on invoices and grant reporting. Filling out forms and juggling schedules with a variety of old-fashioned tools or worse, digital tools that don't really help because your people aren't familiar with them or it's just the wrong tool.
How many times have you had the form right here in this stack, but can't find it quickly while you have someone on the phone?
A Driver calls to say they can't help on Wednesday and now you need to find the scheduled trip and both find another Driver while letting the Rider know that you may need to reschedule or cancel the trip if you can't find someone quickly.
We found an ADRC that needed a solution to these and many other scenarios. They were filling out paper forms, making phone calls and doing the invoicing and grant reporting with pen and a yellow pad. Days of effort went into every month of reporting and that doesn't even count just providing the services!
Our solution is a modern app that allows for data to be entered ONE TIME and used over and over in a variety of ways. Once a Rider or Driver's information is in the system, you'll never have to enter it again.
The Scheduling Wizard
Step-by-Step process for putting a Trip on the Schedule.
Start by filtering the Passenger list by name

Choose one of the Passengers from the List

In the next screen, verify the Passenger details

Trip Details… where to, when, and why.

If appropriate, make it a Recurring trip… in this case, weekly

Choose the day or days for each week

Verify the origin, and who requested the trip

Back to the list of Open Requests; Click 'Select' to assign a Driver

Scroll to select a Driver and click 'Assign this Driver'

Click 'Finalize' to add this trip to the schedule.

The Center of this app is the schedule. See the schedule day by day
Drivers are entered in the system along with a photo and information about the vehicle. This allows the Riders to positively identify the vehicle when it pulls up and the driver will be known to them by the time they arrive at the door.
Riders are entered into the system one time and can be scheduled on a one-time or recurring basis with ease.
Notifications of scheduled Rides can be sent by email or by phone. The system allows for marking the preference per Driver, per Rider; and per Trip.
We have reduced the time needed to schedule a trip to mere moments and the reporting is reduced to the push of a button. Let us show you what it looks like to get the time back instead of spending it on slow and redundant processes.
We have a limited-time offer for the first few buyers of this system. While we've sold this in the past for over $20,000, we're offering this at a highly reduced price for a very short time.
How it's licensed: The investment can be thought of as 3 pieces.
A one-time setup fee to get your system on it's own server and customized to your needs. This includes 10 hours of programmer time.
Since this system is built in Claris FileMaker®, licenses for their software will be required. This can be fulfilled either by bringing your own license or if needed, we can provide the appropriate licensing at an additional cost.
Hosting. The first year of hosting is reduced to $100 a month as part of the initial offer. After the first year, hosting is billed annually (with a 10% discount) or monthly. The monthly amount is determined by the number of users, performance and storage needs, but is generally priced around $425 a month. (covers up to 5 users)
Pricing will be going up around the beginning of the year (2021) so act now!

Schedule your demo today by calling Bill at (651) 560-0309 or fill out this form and we'll get right back with you… be sure to let us know a good day and time for your demo and we'll get you on the calendar.